For all of my pictures from the last two days,
Click Here
We had a little visit from good old William Beckett from The Academy Is... today. He lifted our spirits, signed autographs, took pictures, and most importantly, hung out and chatted with everyone about how horrifying this problem in Uganda is. He had much to say, not just in his speech he made under The Bean in Millennium Park, but after, when he just spoke with about ten of us for a little while. We're still holding out for a rescuer and for the rest of the Rescue Riders to make it in from the other US cities. Everyone's safe and warm in another church tonight, and I may head out there later, but for now, more pictures and William's speech today: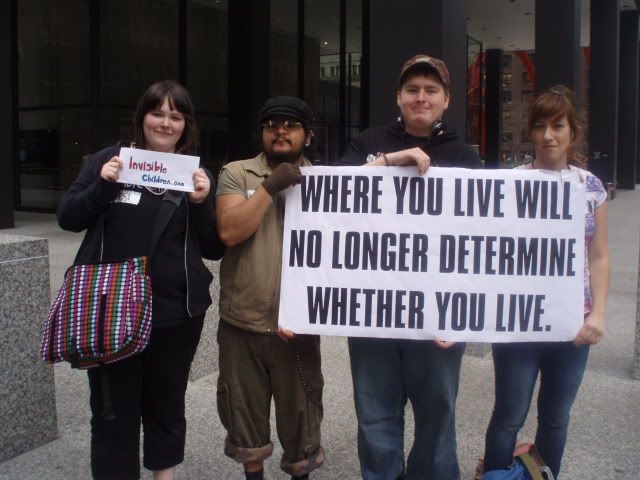 Chicago waits for word from a rescuer and the media, and as soon as more updates are available I'll post them here.
Until we learn more, have a video from this morning:
And this is someone else's video, but it's us marching in the rain by Buckingham Fountain on Saturday
(
My letter to Oprah
Collapse
)
The kids in Chicago are still holding out for a rescuer to show up and save them. They spent the day at Federal Plaza, writing letters and making friends, loving the substantially dryer weather today. Unfortunately they had to be relocated again, this time to Milennium Park, and when the weather blessed Chicago once again with torrential rain, they packed up and headed off to Chicago City Church, where they will be until 9am tomorrow morning. Rescue Riders from all over the country are heading to Chicago to help support those still waiting for a mogul to show up. Though it's been three days, hopes are still high, as well as spirits. Hardly anyone went without a smile on their face, and it's no doubt because they know they're making a difference.